On nearly all pages that the worship flow can be viewed (mobile web app, MyWP, and public worship flow page) users have the option to "like" the worship flow they are viewing. When they click "like", the site keeps track of the like of that specific worship flow. A counter displays the total number of likes for that service, and they can hover (or click, depending on which page they are on) to view who else liked the worship flow.
On the worship flow editor page, the number of likes appears next to the number of views: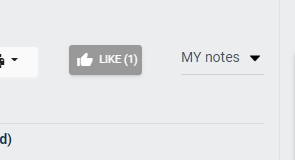 if you have permission to update the worship flow, you'll be able to click on that area. A window will open that shows who viewed this worship flow, and also who liked it. If you need more information on how views are recorded, be sure to check out this support article.
Once someone "likes" a worship flow, they cannot unlike it. Also, a worship flow cannot be "liked" on the worship flow editor page. If you want to like your own service, you can do so by going to Account My WorshipPlanning then click the service on that calendar page.
Like Notification
After you first start getting a few "likes" for your worship flow, WorshipPlanning will send you an email alerting you that people are liking your worship flow. This is a one-time email and no other like notifications will be sent (for that service or any other service).
Using Likes
Likes can be used a number of ways. One option could be to use it as a way for your team to let you know they have seen the worship flow and are starting to practice it. Another use could be to let you know if they can attend rehearsal. Or it could simply be just to let you know they like the set list.
When you decide how you'd like to use the "likes", you may want to send your team a message (first option under the Actions menu on the worship flow editor page) explaining your idea.