The People Scheduling page provides you with powerful tools you can use to schedule your church volunteers
PeopleSchedule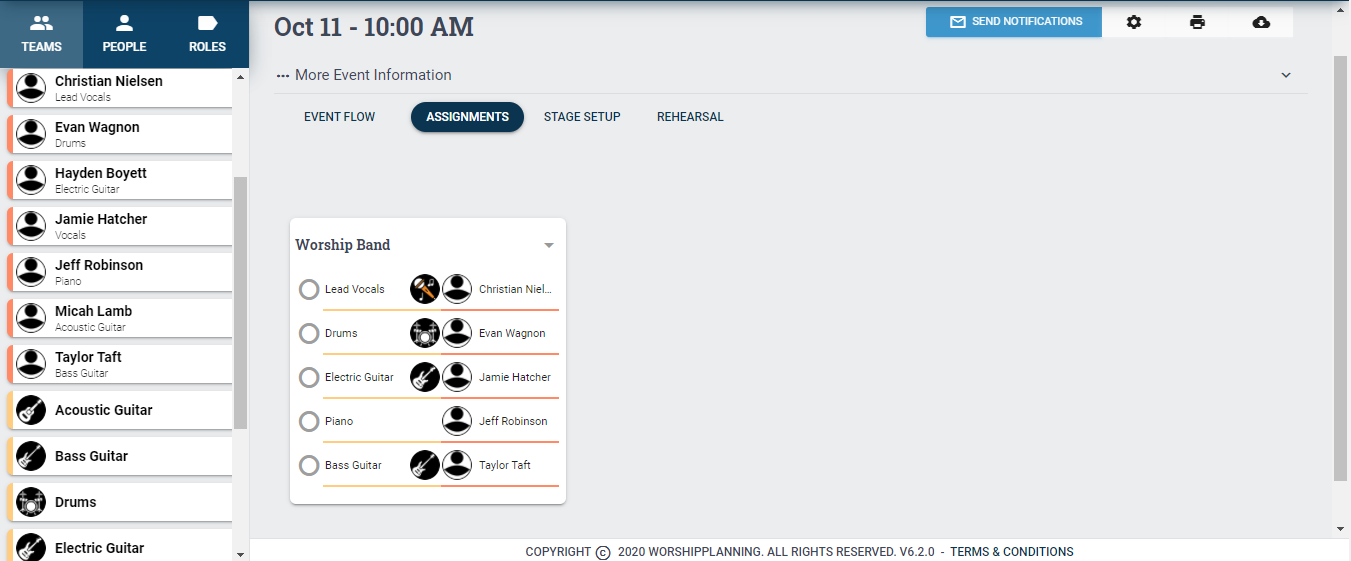 Navigation and Layout of People Scheduling Page: The People Scheduling page is organized with a left panel that shows the teams that you lead. You will see a list of your team members, roles, and team templates. The right side of the page will show one or more upcoming services, along with your team's assignments, response statuses, and possibly notes left by your team members as they responded to the assignment. Throughout this page, items and menu dropdowns can be clicked to show you more information about the item, or give you display options or actions that you can take.
Creating Assignments: The drag and drop interface of the people scheduling page makes it easy to schedule your volunteers. Simply drag and drop from the left side to the service on the right side. You can schedule and entire team at once, or an individual person. Dropping an item on the service header will create a new assignment. Dropping an item on an existing assignment will replace that assignment. Notice the green box that displays, to help you find the right spot to drop the item.
As you make changes to the schedule, WorshipPlanning.com is saving those changes automatically, but assignments are not visible to the assignee just yet. It is important to note that WorshipPlanning.com will NOT save an assignment without a role. The status icon will on those will be a yellow triangle with an exclamation mark on it to alert you.
You may also be interested in learning about team templates to streamline your scheduling process. See "Using Team Templates" support article.